Hi friends!
OMG, it feels like forever has passed since I last wrote a blog post around here (probably because a long time HAS passed).
Anyway, I´m feeling all kinds of inspired after attending PlannerCon Europe in Brussels, so I felt like I had to share it.  It´s the perfect "come-back" for this space.
It was my first time ever attending a planner event, and I´m so happy that I did.  My original plan was to go by myself, but as soon as I bought my ticket, my amazing sister (who lives aaaaaall the way in the United States) texted me that she was coming too!
A sister trip + a planner conference?  Can´t get any better than that.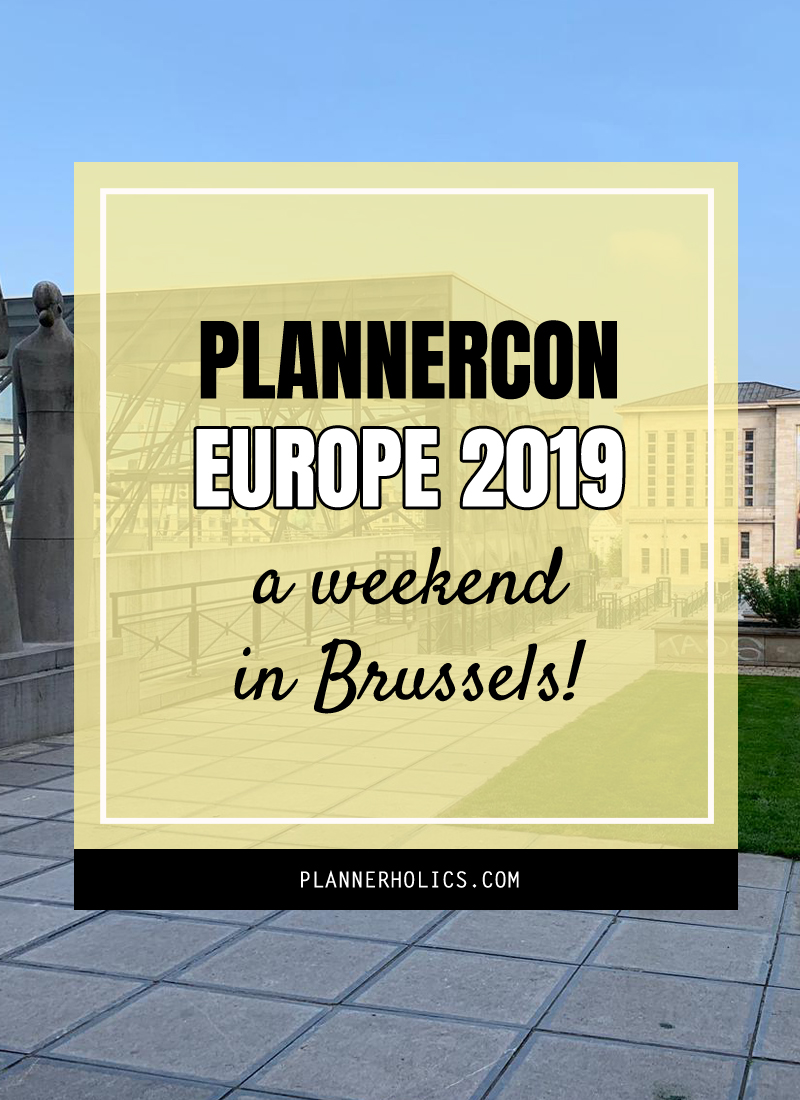 We arrived the day before the congress, Friday 10th, and were greeted by a sunny Brussels.  Weather predictions indicated that it would be raining and cold, but to our enjoyment they were totally wrong.  It was so nice out to do some tourism and waffle eating.
We stayed in the super-duper MOTEL ONE Hotel where we were able to check-in early and leave our things in our room to walk around the city, take some pictures and even register early at the event´s location, SQUARE MEETING CENTRE.  We met up with some planner friends I had been look forward to meeting after talking through social media for years.  It was so amazing to hug and catch-up and get to know eachother in person.
We then crashed at our hotel room and had an early night.  The sleep and rest was needed for what was coming....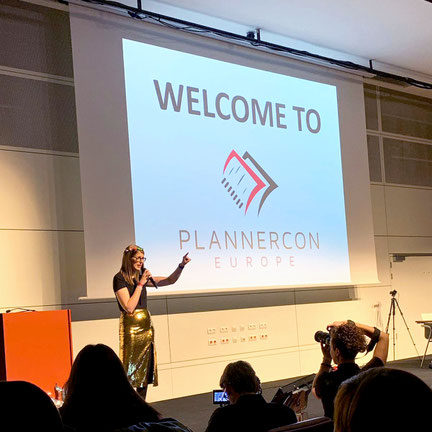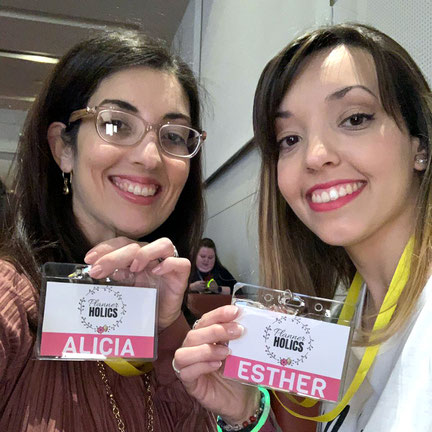 day one of plannercon europe: goodies overwhelm
I was soooooo excited and nervous and feeling all kinds of things at once as we entered the event´s hall.  The commencement ceremony began with the famous Ed Sheeran song "Shape of You" adapted with planner lyrics, it was the funniest thing, and we sang it twice!  We then exchanged our vouchers for the swag bags with ALL the goodness galore that you can imagine.  Seriously.  There were some amazing shops who donated their beautiful designs and products to use, so very very generous. 
Additionally, I brought with me 2 entire tote bags with goodies to gift during the day.  So while everyone was sitting at the big round tables checking out the contents of their swag bags I went around and handed out little purple envelopes with some fun stationery I had prepared.  To my surprise, a lot of you gave a goodie bag back to me! 
After all the swapping and chatting, we then proceeded to roam around all the vendor booths and pick up even MORE freebies that they had to offer.  I was absolutely overwhelmed with how much swag there was, for real!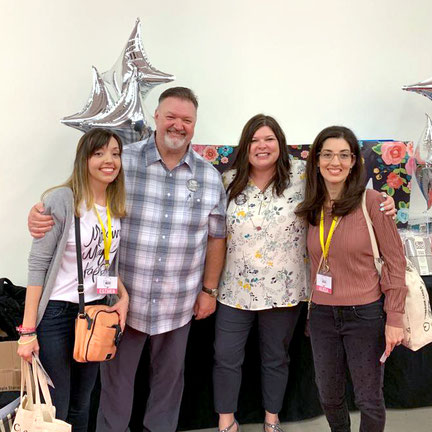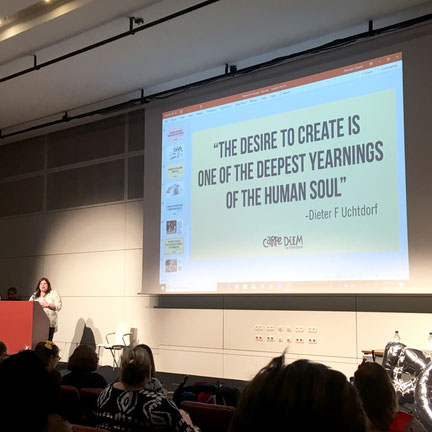 During our booth strolling, me and my sister met Amber and Kevin from Carpe Diem Planners.  They were the most sweetest, humblest people I have ever had the pleasure to converse with.  We hugged, took a picture and I bought an A5 floral ring planner which took my heart.
Pretty soon we were heading to our first Keynote of the day, from Amber and Kevin themselves!  I really enjoyed their talk, specially learning how their stationery business began and how they grew to the company they are today.  I really do feel honored to have met such honest and caring people who truly believe in what they do.
Of course I can´t not mention their incredibly generous swag bag!  They literally went all out and gave us the most beautiful goodies.  A bunch of sticker packs, notebooks and a full size Traveler´s Notebook!  Which by the way matched the A5 ring planner I had previously bought.  It was a match made in heaven.
After the keynote, we went back to the shopping hall to do even MORE shopping. LOL, it was so fulfilling to be able to touch and see all those products that have been in my wishlist for ages. I'm sure my fellow planner addicts will understand what I mean.  Especially if your country doesn't have many or any stationery stores where you can physically shop.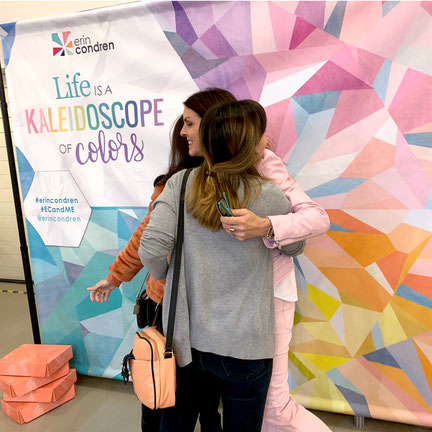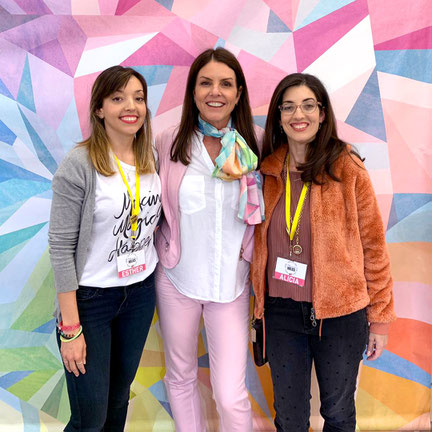 For the last main event of the day we attended Erin Condren´s keynote.  She is such a good public speaker, and her speech was all kinds of inspiring and motivating.  I felt really empowered to start working on my projects right away.  She of course had some awesome swag to share with all of us as well.   
Afterwards, we had the opportunity to speak with her directly at her "Meet and Greet".  It was a total fangirl moment for me, and I was super nervous.  Erin´s planners initiated my love for memory planning and using stickers again so it was mind blowing that I was able to tell her that in person.  She was so nice and she actually took a photo of my business card in her personal phone!  My mouth hung open for a while there.  It was the coolest moment of the day.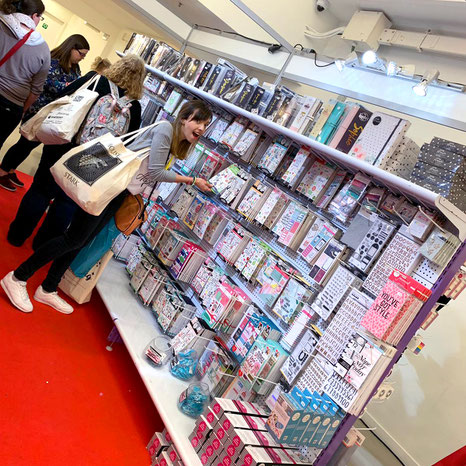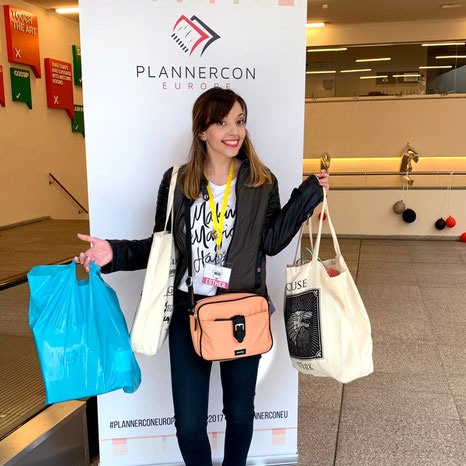 By the end of the afternoon, me and my sister were carrying about 50 kgs of goodies on each shoulder.  It was INSANE.  Because we not only received a ton of free stuff, and bought a ton of stuff, but there were also 4 HUGE swap tables to grab and get even MORE stuff!  I was quite selective about what I picked up, but we still grabbed all kinds of paper goodies for our backs. hahaha.
After the conference, we continued to tour the city a bit and met up with more planner friends to eat dinner with.  It was so much fun to chill and talk with like-minded people and ogle at their planners without worrying that they´ll look at you weird for having a paper obsession.
For the entire afternoon, I just kept mentioninig "Can you believe ALL THE STUFF we have gotten in just ONE day?!?!"  
I couldn´t get over it.
I still can´t get over it.
And if you don´t believe me, here are 18 minutes of pure goodies galore!  Grab a cuppa tea and enjoy my biggest haul to this day.
day two: a chill but sweet day
Because it was my sister´s first time in Brussels and I hadn´t been in the city for over 10 years, we decided to do some more sight-seeing in the morning before heading to PCE.
We made it just in time to watch Ryder Carroll´s video interview which was pre-filmed at Leuchtturm1917 HQ.  He is such an interesting person and has a lot of insight into how logging your day´s activities is good for the soul.  I´m about half way through his book The Bullet Journal Method (which by the way he gifted to EVERYONE at PCE.  Yes, his book for FREE), and I´m finding it very mind-opening. It´s not only helping me understand how to structure my tasks better but it´s helping me find the reason and meaning as to why doing it a certain way could be beneficial in my lifestyle.  Hopefully in time, I´ll try to do a book review and write a blog post about it.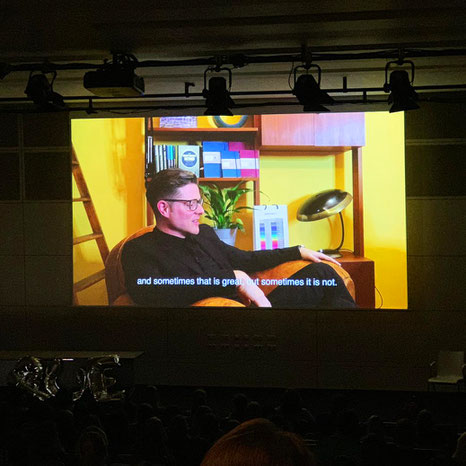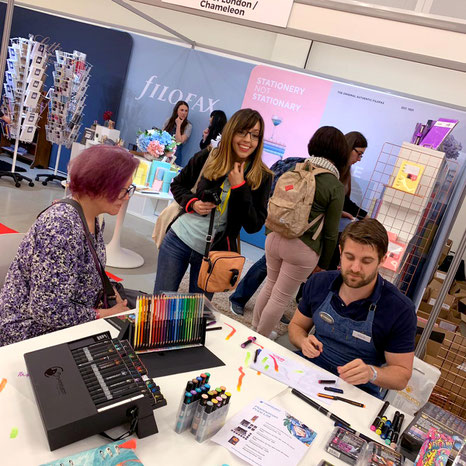 Afterwards, we headed back to the shopping hall to hang out with some planner peeps, I took the opportunity to film each booth a little bit as well.  The hall wasn´t as packed as the first day, and it was very soothing to walk by each shop and look at every single one of their products.
I got to chat with a lot of the vendors there, and seriously kudos to them for playing such an important part of the planner event.  I learnt a lot about their business and how they´ve grown.  I love hearing about behind the scenes of any crafty store.  In between connecting I also did some last minute shopping and soon we headed for the last keynote of the day, Filofax.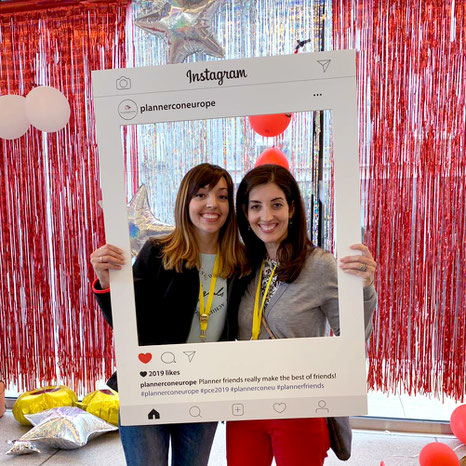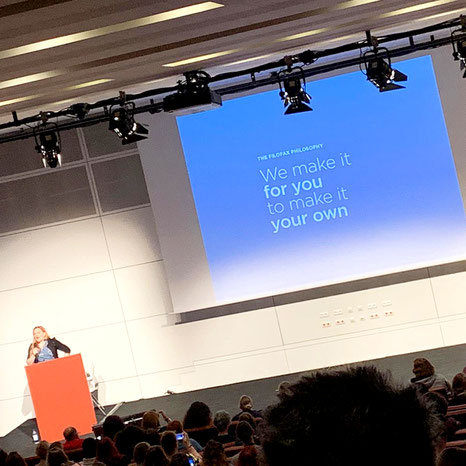 Julia had so many inspiring quotes to share and so many truths about planning.  I specially nodded my head when she defined our planners/notebooks/journals as our life´s artifacts.  They are what remain of us.  They have our life´s highlights, be they good or bad.  
I truly had the most wonderous time and felt like I got so much done in such little time.  We packed our days with activities, shopping, sight-seeing, friends, waffles and made our weekend the best it could have ever been.
I left carrying more than I ever hoped for and with an even bigger love for this community.
I just wanted to give a HUGE thank you to all the people who made it possible and who did such a marvelous job at organizing everything.

Here´s a short video of the experience, perhaps not with every little detail, but that´s what this blog is here for.  
Let me know if you´ve ever attended a Planner Event in your area or have traveled somewhere exclusively to be a part of it and what your favorite moment was. I would love to know.