establishing your planning system
I was originally planning on posting this in September, alongside all the new planner launches, but I was on a my long hiatus (if you follow my newsletter you know more about that) in regards to this space and social media in general and unfortunately wasn´t able to.
Either way, I´m pretty sure there are many of you out there that are still deciding on what planner you´re going to use next year. 
Soooo, I thought I would write this post now (because it´s never too late!) and help you guys decide what your planning system will be like for this upcoming year in case you´re still not sure.
I´ve been receiving a few emails from some of you asking what type of planner you should get for 2020 and while the answer might seem a little difficult, I´m going to try and give you a few tips to consider, with my own personal planner journey as an example, before making your decision.
I feel like picking a planner is something very personal, like picking a good perfume, and trying to find one that is truly suited to our tastes and needs can be challenging, but I´m hoping with these steps I can make it a little easier for you.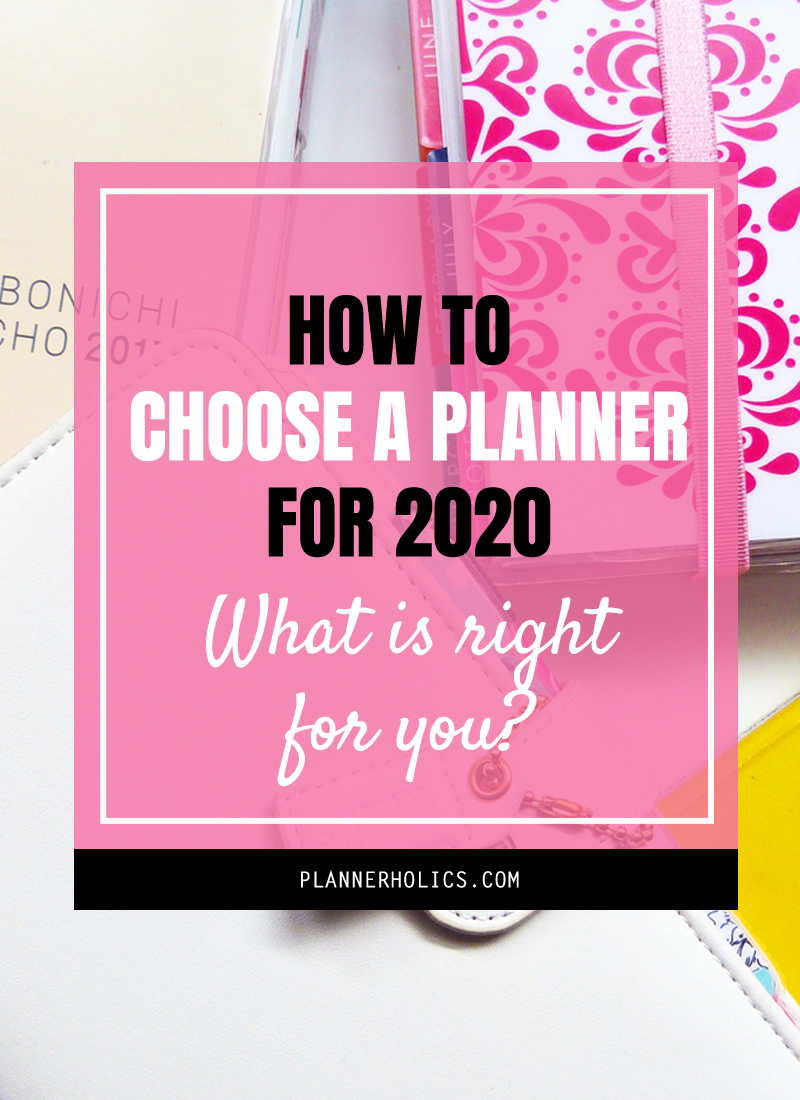 1. what are you going to plan or track?
Think about what you want your planner to accomplish.  What is your PURPOSE for using a planner?  Do you want it to help you remember appointments, calls you need to make, project steps, finances, house chores, and so on...? WRITE IT ALL DOWN.
Grab a pen and piece of paper and make a list of everything you want to track and keep organized in your life. 
Here´s an example of mine:
-          HOLIDAYS
-          BIRTHDAYS
-          EVENTS
-          APPOINTMENTS
-          PROJECTS
-          SOCIAL MEDIA
-          ONLINE ORDERS
-          CLEANING CHORES
-          HEALTHY HABITS
-          MONTHLY TO-DOS
-          WEEKLY TO-DOS
-          FINANCES
-          GRATITUDE
2. how many planners will you need?
Now, break down your list, decide if you want to track everything in one planner or in multiple planners.  Perhaps you want to keep your work or school life separate from your personal life.  Or maybe your wellbeing plan is so extensive that you need a separate space so that it doesn´t mix in with your other to-dos.
I, for example, prefer having everything in one place, but it´s true that I keep a work planner at work, and have a personal planner with me at all times for all my other activities NON work-related. 
It can be difficult to keep up with things when they are scattered in different books, so make sure to make it simple for you. 
Grab your list of things and break them up into categories.  Try to adjust everything to fit in one or a few planners as long as it´s easy for you to keep up and plan.  Like I said, this is all personal choice and it depends a lot on your life situation.  I like using one planner now, but who knows what the future will hold, I might need to own 10 planners in 5 years (although that´s a little exaggerated but you know what I mean).
3. what size to choose
Alright, so now think about WHEN do you usually plan?  Are you the type of person that is constantly running errands and you need to carry a planner at all times? In that case, you have to consider the size and weight you would be willing to carry around.  The types of purses or carry-bags that you use, and what would fit nicely inside them.
Many planners have multiple sizes, but beware the number of pages and weight.  Also make sure that the cover is resistant enough and can withstand being beat up in a traveling situation.
But! Maybe you´re the type that prefers to leave your planner at home or at work, in a secured spot.  So size wouldn´t be much of an issue for you.
Also, think about how much space you need to write out your schedule and plans. How small or how big are you willing to accept? 
In 2017, I found the Hobonichi Cousin size perfect to carry, it was compact but big enough for my to-dos.  However, since I enjoy decorating in my planner, I was adding a lot of bulk to my pages and unfortunately the book got heavier and very uncomfortable to fit in my bag, so I decided to size it down the next year and reduce the number of pages, which is why I made the switch to the Jibun Techo Planner in 2018.
4. choosing the inside layout
Remember that list you wrote in step one? Well, now comes the fun part.  Try grouping what you´ve written down and how best you can accomplish each task in a planner.  Do you need big squares, small squares, grid paper, lines, blank space, a checklist, a timetable.  All those little features in a planner that can structure out your content.
It all comes down to how much information you need to record and HOW you want to record it.
For example: I track birthdays and holidays much better in a monthly 2-page spread calendar rather than a yearly view.  As for To-Dos I like switching between weekly spreads when I don´t have much going on or daily views for very busy days.
Think about how you can incorporate each of the items in your list to different layouts.
Are you more of a monthly, weekly or daily person?
If you´re someone who has a lot of appointments and meetings perhaps you need to search for hourly layouts where you can actually look at a timely schedule.  Or maybe you are more of a list-maker and need checklists to function.  Whatever your groove there´s a planner out there that will meet your demands for sure!
This is all about experimenting afterall.
Chances are if you´ve used other planners before and are now trying to look for a new one  it´s because the one you used had some glitches and couldn´t quite keep up with your needs.   In that case I recommend making another list of the things that worked and  didn´t work, so you know what to avoid and what to look for.
For Example:  The Erin Condren has an amazing monthly view as well as weekly view that was perfect for my planning needs at the time,  I only needed it at home so everything was great.  However my life experienced some changes that required me to take the planner with me on my outings and the ECLP was just too heavy and too bulky, so after completing the full year I decided to switch my main planner and try a smaller more compact one that had flexibility in it´s pages, the bullet journal in a Leucchturm1917 notebook.
5. this brings us to the big question: what design or style is best for me?
one last thing to consider!
What is your price limit?  
You have to decide how much money you are willing to spend so you can look for a planner that works in your budget.
Keep in mind that this is an investment you are making that will last you an entire year and hopefully help you stay productive.  This doesn´t mean you have to spend your life savings, obviously, but it could be the difference that will determine if you use the planner or not.

Remember, a planner is simply a TOOL to help you accomplish your goals and tasks,  but YOU are the one who has to put in the effort to be as productive as you set out for yourself.
I hope this post helped you out in choosing the "right" system for you and maybe discard some doubts you were having.
Brainstorm, do the research, and experiment.  Chances are you won´t know until you´ve tried it.
If you´ve made the decision, go ahead and leave me a comment below with the planner you´ve chosen to use for next year and why, I´m really curious to know.  And if you´re still struggling on what to pick, don´t be afraid to ask any questions in this post or in the planner community, we´re all here to help each other out and bask in that planner glory.  Or feel free to check out my own 2020 planner setup for more inspiration!